Beacon Hospital Research Institute Launches Ground Breaking "Concussion in Sport" Study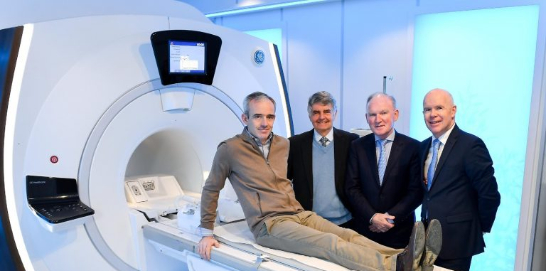 L – R: Jockey Ruby Walsh, ICHIRF CEO and Medical Director Dr Michael Turner, ICHIRF Trustee Dr Adrian McGoldrick and CEO of Beacon Hospital Mr Michael Cullen launching the Concussion in Sport Study in Beacon Hospital
Concussion in Sport, is a recently launched collaboration between Beacon Hospital Research Institute and The Concussion Foundation. The study aims to better understand the long-term effects of concussion in athletes. The study will initially recruit retired jockeys and will expand to include other contact sports such as rugby, GAA, boxing and soccer.
A new approach to measure the forces acting on the knee during walking by using wearable sensors in osteoarthritis patients
Beacon Hospital are collaborating with the Insight Centre for Data Analytics in UCD and the pharmaceutical company Novartis on a project seeking to offer gait assessment in a valid and reliable, yet more accessible, manner. The team are developing a method of using digital insoles and wearable sensors to measure areas of interest such as the speed, the forces acting on the knee, and the range of movement the knee displays during walking. They are using the specialist gait laboratory in UCD to compare this new method to gold-standard motion capture systems and are working with both healthy volunteers and those experiencing osteoarthritis of the knee. The hope is that in time, more people will be able to receive this highly specialist measurement without having to go into a dedicated and expensive gait laboratory.
The principal investigator completing this research is Prof. Brian Caulfield and study coordinator is Dr Rob Argent.
Please see links below for further information;
Muscle Recovery Following Knee Replacements
Using nerve conduction studies, this study will compare the degree and rate of recovery of muscle groups in patients who have had either a partial knee replacement versus a total knee replacement. In collaboration with our partners in Tallaght University Hospital and the Royal College of Surgeons this study aims to recruit 90 patients over a 2 year period.
Dr Rebecca Headon is the principal investigator conducting this research.
Soleus strength performance post Anterior Cruciate Ligament (ACL) Reconstruction
This trial will investigate the Soleus muscle strength and performance in athletes who have undergone Anterior Cruciate Ligament reconstructive surgery. Participant's muscle strength will be tested using a Biodex Isokinetic dynamometer.  This trial is a collaboration with University of Leicester and the principal investigator is Anthony Pierce.
The study aims to recruit 80 participants over the course of 2021.