Beacon Hospital Research Institute Launches Ground Breaking "Concussion in Sport" Study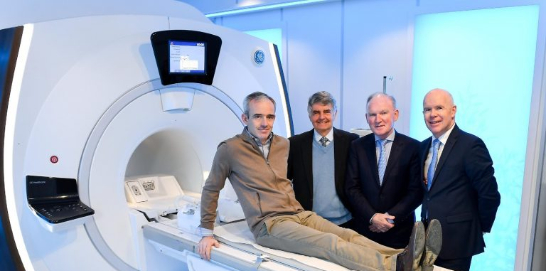 L- R: Jockey Ruby Walsh, ICHIRF CEO and Medical Director Dr Michael Turner, ICHIRF Trustee Dr Adrian McGoldrick and CEO of Beacon Hospital Mr Michael Cullen launching the Concussion in Sport Study in Beacon Hospital
Concussion in Sport, is a recently launched collaboration between Beacon Hospital Research Institute and The Concussion Foundation. The study aims to better understand the long-term effects of concussion in athletes. The study will initially recruit retired jockeys and will expand to include other contact sports such as rugby, GAA, boxing and soccer.
Read our recently published review article on Concussion in Sport…
"Consent, capacity and compliance in concussion management: cave ergo medicus (let the doctor beware)"
The British Journal of Sports Medicine recently published a review article completed by Dr Michael Turner and colleagues. The review discusses the topic of informed consent in concussion and proposes a framework to assess return to play decisions.
Link to abstract
Testing Novel Sensor Technology in Osteoarthritis
The purpose of this trial is to establish a simpler way of measuring the forces applied to the knee during walking, to understand how these forces are affected by arthritis, and how they change with treatment. The study aims to recruit 40 participants over the coming weeks.
Muscle Recovery Following Knee Replacements
Using nerve conduction studies, this study will compare the degree and rate of recovery of muscle groups in patients who have had either a partial knee replacement versus a total knee replacement. In collaboration with our partners in Tallaght University Hospital and the Royal College of Surgeons this study aims to recruit 90 patients over a 2 year period.
The PLAVOCS Trial: PLAtelet-rich Plasma vs High Volume CorticoSteroid Injection for Gluteal Tendinopathy
This trial will investigate treatments for hip pain using injected anti-inflammatory drugs compared to a booster injection of growth factors using the patients own "platelet enriched plasma". Participant outcomes will be measured using a Biodex rehabilitation system. Conducted by our top team of orthopaedic surgeons in Beacon Hospital, this study aims to recruit 60 participants over the coming months.
Soleus strength performance post Anterior Cruciate Ligament (ACL) Reconstruction
This trial will investigate the Soleus muscle strength and performance in athletes who have undergone Anterior Cruciate Ligament reconstructive surgery. Participant's muscle strength will be tested using a Biodex Isokinetic dynamometer.  This study aims to recruit 80 participants over the coming months.